Your business' signage serves as an advertisement for and is the face of your company. It sets the tone for your brand and builds awareness. With custom signage, you can attract new customers, provide an image for existing customers to recall, and market your products and/or services easily!
Meet the SIGNLite Team
SIGNLite's full-service facility in North Haven, CT is equipped with the industry's latest and greatest sign and design manufacturing equipment.
Our team of skilled professionals can handle a wide variety of sign making services, from electronic message centers to pylons to vehicle graphics and beyond. Our goal is to help your local business attract the eye of customers and draw more attention to your company.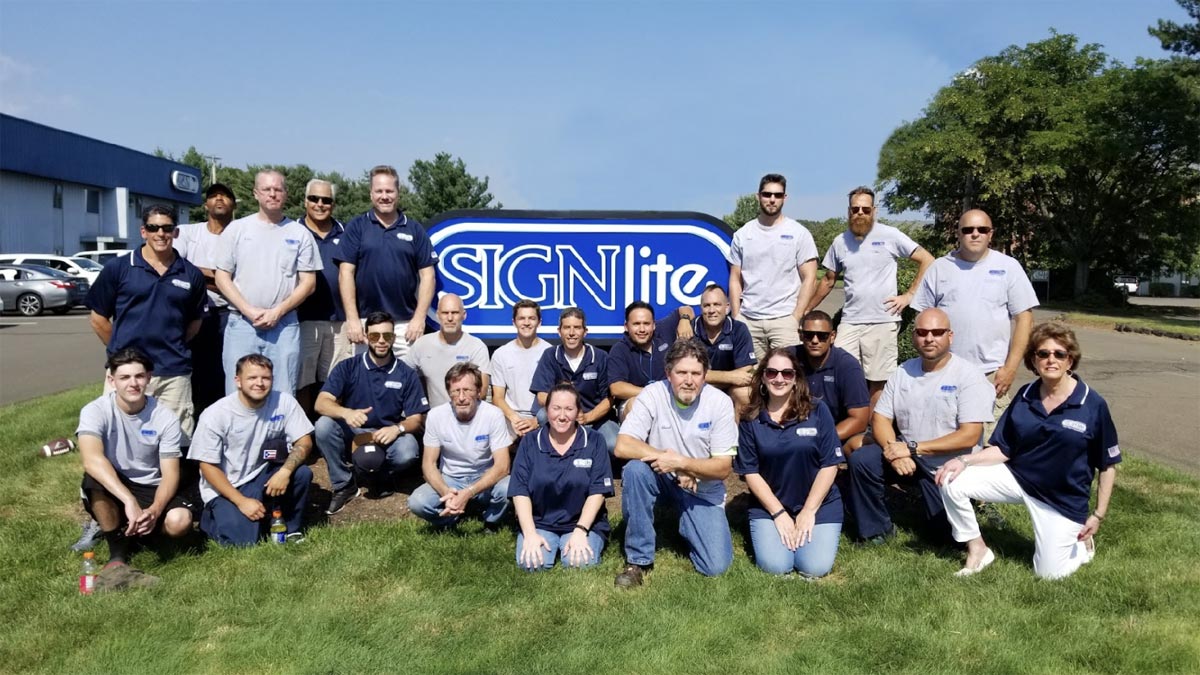 Custom Signage for Your Business in New Haven
Allow our team to design, fabricate and install your custom signage. First, we will work with you to choose the type of sign, materials, finishes, lettering and lighting needed for your project. Then, our master craftsmen will get to work in our state-of-the-art facility in North Haven, CT. Finally, SIGNLite's experienced installation crews will ensure your new signage is installed to the highest industry standards.
Whether your company has its own artwork or needs SIGNLite to develop and create a unique brand image, our team of amazing graphic designers are ready to present you with custom sign designs that guarantee your company will stand out from the rest. We produce all signs in-house using only the highest quality materials.
From high-rise exterior building signage to ADA-compliant wayfinding signage, and all signs in between, our highly experienced crews have the knowledge, expertise and equipment to handle any installation that comes our way.
SIGNLite's Signage Services
We offer many types of signage. Our team of highly skilled fabricators, welders, CNC operators, painters and graphic applicators can turn any concept into a beautiful custom sign for your local business. Popular signage types include, but are not limited to,:
ADA & wayfinding signage
Architectural signage
Awnings & banners
Carved signs
Digitally printed signage & vinyl graphics
Electronic message centers
Interior & exterior signage
LED channel letter & illuminated signage
Monument signs
Plaques
Pylons
Sculptures
Vehicle graphics
Contact SIGNLite for Your Custom Signage Needs in and Around the New Haven, CT Area
Established in 1966, our team of dedicated professionals strives to exceed your expectations and provide our clients with the best product and service possible. Contact SIGNLite today to learn more about our custom signage services in New Haven, CT and surrounding areas, and how we can help bring your vision to life for your Connecticut business.