LED lights are popular for a reason. Not only are they cost effective and long lasting, they're highly visible and draw attention!
Robinson Aviation
SIGNLite had the pleasure of designing, fabricating and installing this LED-illuminated exterior signage for Robinson Aviation, a highly-rated, fixed-base operator out of the Tweed New Haven Airport offering exceptional services at affordable prices.
For this project, LED lights were a no-brainer. No outdoor logo sign is complete without lights to keep visibility high throughout the night. The clarity of the sign no matter what time of day is what makes this sign another SIGNLite success! Robinson Aviation was thrilled with the outcome of this project, too.
"We have upgraded our ramp presence with new signage! A big thanks to our friends at SIGNLite for making this upgrade possible!"

–Robinson Aviation team
"It came out great, it is a great improvement to our ramp entrance. It lights up very well at night too."

– Sean Robinson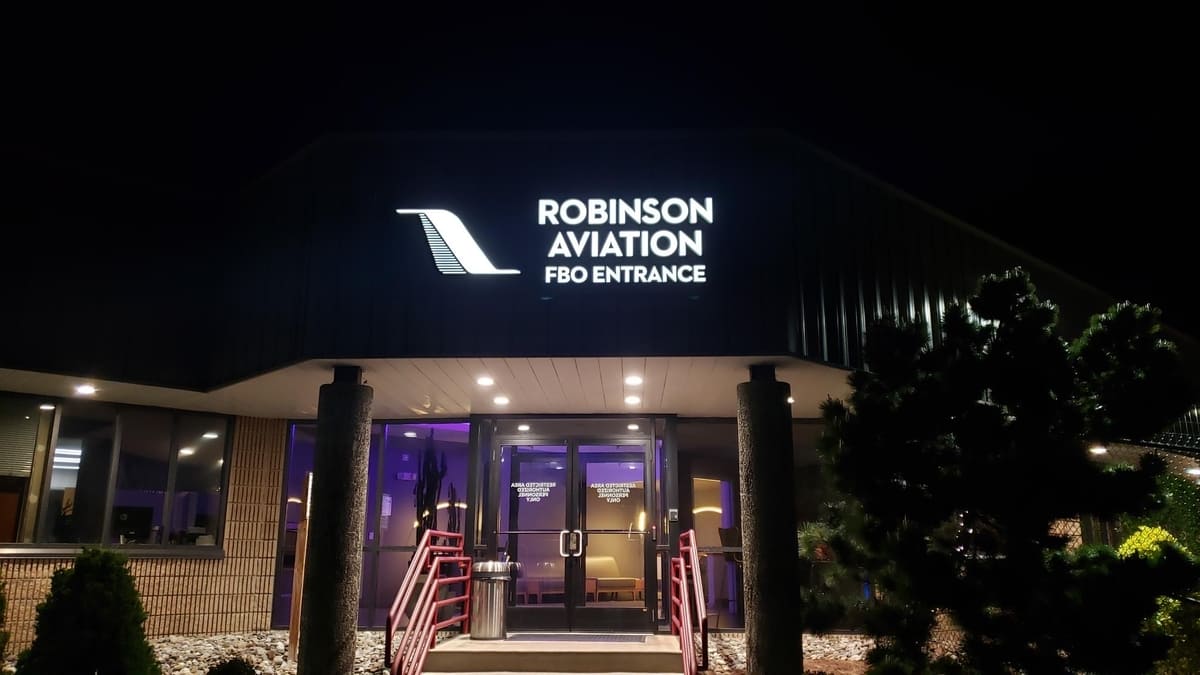 Benefits of LED Lights & Illuminated Signs
Other than being cost effective, long lasting and highly visible, LED lights are energy efficient, better for the environment, durable, and low maintenance, making them the perfect choice for your next signage project.
LED lighting uses less energy than other materials, like neon. They emit very little heat, produce less waste light than other methods of lighting, and have a long lifespan. And, when they do need to be replaced, bulbs in LED lighting can be recycled!
Cold weather and the elements are no match for these lights, either. LED lights work very well in colder temperatures and are sturdy enough to remain intact for the long haul. 100000 hours (10 to 11 years) is the typical lifespan of an outdoor LED display.
Contact SIGNLite for Your New Illuminated LED Signage in and Around the New Haven Area
For over 55 years, SIGNLite has been an industry leader providing our clients with high quality custom signage. Whether your business is looking for a complete sign package or simply looking to update your current signage, let SIGNLite guide you through the process with our turnkey approach. Our creativity and capabilities are limitless, and our team of dedicated professionals are always ready to assist and strive for total customer satisfaction.